Loudspeaker Design, Measurement, Repair & Restoration Services
We are passionate about helping our customers obtain great sounding loudspeakers. Whether this is through designing a new speaker for DIY construction, a custom build optimised for your listening room, or restoring damaged or aging loudspeakers back to thier former glory, we would love to help you achieve your aims
Would you like to learn more about loudspeakers and how to design them?
If you are a DIYer who would love to be self-sufficient in the design of your own loudspeakers, or are just interested in knowing more of the technical side, we run courses in loudspeaker design for groups or one-on-one training.
Do you have existing loudspeakers that are not delivering the performance you expected or would like?
Often a re-calibrated crossover network can do wonders for an underperforming loudspeaker. A few initial measurements can quickly pinpoint where the issue may be - modifications to crossover filters and attenuators can bring the speaker into correct balance. Further voicing of the speaker can adjust the sound to work with your listening room and speaker/listener location.
Would you like to get into a loudspeaker build project using a design that was specifically created to your specification and budget?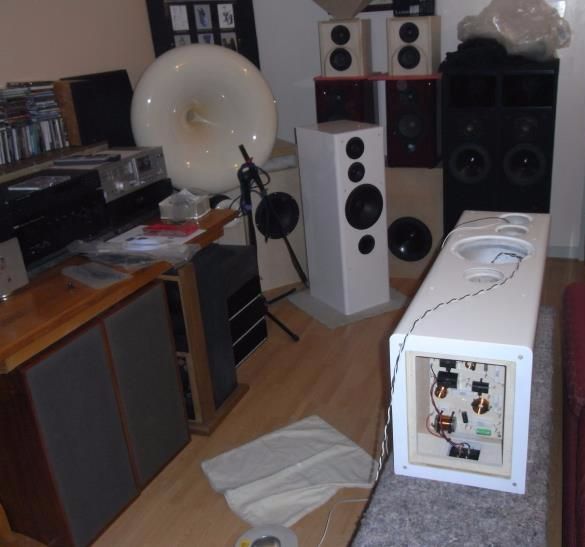 There are designs published in books & magazines and on the internet - you have considered some of these but would prefer the opportunity to work with the designer to really get a solution that will work well in your listening room.
We often work to a brief that starts with the customers room and layout.
Addressing specific issues such as size, location with respect to room boundaries, musical tastes, sound preferences, budget we can come up with a design that you can construct knowing that we are always on hand to help with any queries and technical details.
Are you speakers faulty or have become tired over time and are simply not working as they should?
Whether a relatively straight-forward repair or full restoration, we return your speakers to their former glory and performance specification.